Wednesday/15 August 2007.
It is always amazing to see how hospitable and warm the Haitian people are, no matter where I go I am reminded of this. The people whose concrete apartment I am staying at now are so poor but they go out of their way continuously to make me feel at home. And I do. But today I received just the opposite impression from a Brazilian squad of MINUSTAH, the UN force garrisoned here in Haiti since 2004.
At about 12 in the afternoon I went down with a friend from Delmas street to the National Palace, in downtown Port-au-Prince, to cover a demonstration called for by the Fondasyon 30 Septamn (the September 30th Foundation). The group was founded by

Lovinsky Pierre Antoinne
, a leading human rights and Fanmi Lavalas activist, who has gone missing and believed to be kidnapped. Lovinsky is a vocal advocate for the victims of both the 1991 and 2004 coups, both of which ousted Haiti's twice democratically elected

President Jean-Bertrand Aristide
. A couple hundred members of the group were present. Many were lying on the ground and were visibly sad, others were standing crying out for the return of the deeply loved founder of their human rights organization.
When we arrived at the National Palace we saw a dozen blue helmeted MINUSTAH soldiers standing in front, nearly all with machine guns drawn, along with two parked jeeps and one large tall APC with a mounted machine gun. Another large jeep showed up carrying four MINUSTAH soldiers, three wielding large machine guns.
I first snapped photos of the demonstration, then proceeded to snap photos of the heavily armed MINUSTAH contingent.
After standing nearby the troops for a few seconds fiddling with my camera, I saw one motion to the others and I was immediately surrounded by three of the Brazilian blue helmets. In threatening tones and postures they demanded to know what I was doing in Port-au-Prince. I explained that I was a university student and that I was working as a journalist for the Inter Press Service (IPS) trying to cover the demonstration. One of the MINUSTAH troops then yanked down on the large press badge around my neck, inspecting it thoroughly. It was a press badge for IPS. Twice more I told them I was a member of the press.
They then called over a fourth soldier with a camera. I protested. Next one of the soldiers, also holding a machine gun, swatted off my cap onto the ground. I repeated that this was a violation of my human rights. Two others put their arms on my shoulders and held me still near one of their vehicles. The 4th soldier meanwhile placed the camera close to my face and snapped a close up photo. They placed my press badge so my name would show clearly in the photo. The whole incident must have happened within a matter of fifteen seconds but it obviously felt intimidating.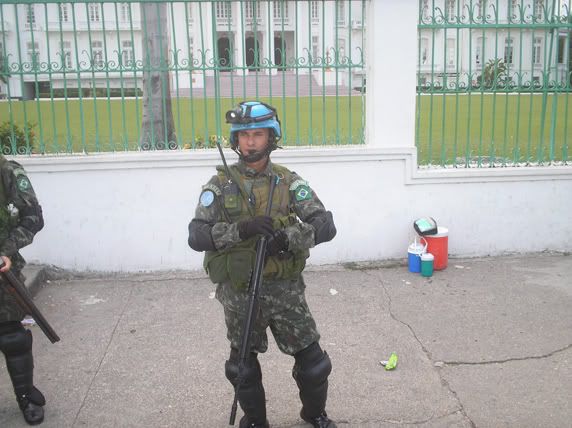 The captain of the Brazilian MINUSTAH squad who directed the others to grab me had a walkie talkie in his vest, along with a headset and some sort of camera or night vision device mounted on his helmet. Evel Fanfan (a committed and well known human rights organizer of AUMOHD who has been threatened on numerous occasions) was nearby. He observed that this was a common practice for the UN troops. MINUSTAH regularly harasses Haitian journalists and poor people, forcing them to allow a MINUSTAH soldier with a camera to take a close-up photo of their face, a form of data collection for UNOPS intelligence, he explained. Two young Haitian journalists from Cité Soleil told me that MINUSTAH tightly censors those journalists they allow into UN gatherings in Port-au-Prince.
Poor Haitian journalists never paint the amiable picture of MINUSTAH that we hear so often from
embedded journalists
writing for many of the major US or European media outlets, who more common than one would expect wear-two-hats, working simultaneously for US government
funded outlets like the Voice of America (VOA).
One can easily be reminded by looking back at the
photographs and documentation of human rights reports
of what impoverished Haitians have had to endure since Feb 2004.
The Brazilian army has a long and shady history. Early on it was used as a violent apparatus for repressing slave revolts. During the 20th century the army utilized

terror campaigns
to stamp out leftist and landless peasant movements.
19 September 2007 Update: Over one month later and
Lovinsky Pierre Antoine
is still missing. Back in December 2006 Lovinsky appeared on Pacifica Radio's
Democracy Now.